Shopping in Ho Chi Minh City Vietnam
By Molly Butler
Have fun shopping for toys, wooden and metal crafts, embroidery and much more in Ho Chi Minh City, Vietnam.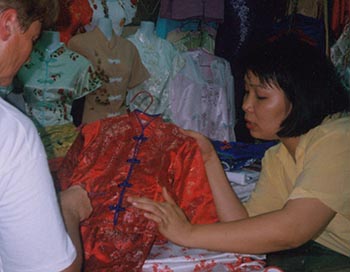 The streets are just lined with shops, so it's not hard to find things to buy, but it can get overwhelming with so many choices. Also there are some specialty items that may be difficult to find unless you know where to go or what to ask for. The hotel staff are a good resource if you want to find something in particular. I also found that impulse buying was a good thing in Vietnam. If I saw something I liked, I went ahead and bought it then. Normally I like to think on things a bit, but the trip is so quick and can get filled up with adoption work or trips to the medical clinic, etc that it can be difficult to make it back for something. So, I just bought it if I liked it. The prices for things are soooo good it's not hard get a lot for your buck (or dong!).
We've been to Vietnam 3 times for 3 adoptions, so we have quite a collection of wonderful handicrafts and other things from Vietnam. We bought gifts for each of our kids to give to them every year on their "gotcha day" as well as lots of other things to decorate our house and give away to family and friends.
Between the three trips we did most of our shopping at the Tax market (across from the Rex), Ben Thanh market, and Don Khoi Street (can be more expensive but nice selections). We also made it to several other markets.
Shopping for Wooden Items in Ho Chi Minh City, Vietnam
*large handcarved boats (they look impossible to pack, but the masts come off and fold down.)
*hand carved helicopters and airplanes
*jewelry boxes
*chop sticks
*Chess sets
*other VN game boards
*pencil holders
*business card holder
*puzzle boxes in animal shapes
*bowls
Shopping for Musical Instruments in Ho Chi Minh City, Vietnam
*large Xylophone made from bamboo
*clacker type thing (?)
*Brass gongs (old)
*wooden frogs (and other animals that you rub the back to make noise)
*maracas
*flutes
Shopping for Embroidery in Ho Chi Minh City, Vietnam
*table cloths
*placemats
*coasters
*tissue box covers
*little pouches with draw string
*baby bibs
Shopping for Jewelry in Ho Chi Minh City, Vietnam
I bought a gold chain on each adoption trip. These are one of my favorite buys. I'll hand them down to each child when they're older).
*gold chain with a jade charm
*white gold chain
*gold chain with "emerald" stones
*silver earrings
*silver bracelets
*money clip
Shopping for Paintings in Ho Chi Minh City, Vietnam
*oil landscapes
*ink drawings
*landscapes on silk
*lacquered panel painting
Shopping for Clothes in Ho Chi Minh City, Vietnam
*silk pajama style outfits for the whole family...and then some! (all sizes
for the kids to grow in to)
*ao dais for me and Katie (all sizes to grow into)
*crowns that are worn with ao dais (I forget the VNese name)
*silk mens shirts (in raw silk which is somewhat like linen)
*velvet jackets lined in silk for me and several for Katie as she grows (bought in Hanoi)
*T-shirts for EVERYONE including all sizes for kids to grow into
*baseball caps with HCMC logo
*painted silk scarves
*silk robes (including kids sizes to grow into)
*non hats in all sizes
*smocked dresses for Katie as she grows
*cotton shirts and PJ's appliqued with animals (for kids)
*squeaky shoes (for the kids)
*leather belts
Shopping for Metal Figures in Ho Chi Minh City, Vietnam
*cyclo (actually pedals with a real bike chain...just like the real thing)
*helicopter
*train
*brass animal figures (water buffalo, elephant, dragon, turtle, etc)
*old brass bells
*silver jewelry boxes
Shopping for Pottery in Ho Chi Minh City, Vietnam
*glazed vase
*small bowls
*tea set
*planters
Shopping for Media/Electronics in Ho Chi Minh City, Vietnam
*portable DVD player
*tons of kids videos
*music cd's
*DVD's
*power converter
*nebulizer (for our baby who we found out in VN had asthma really bad)
Shopping for Games and Toys in Ho Chi Minh City, Vietnam
*Vietnamese dolls (small dolls for Christmas tree & large dolls to play with)
*paper snakes and turtles on a string that scurry around when pulled
*soccer balls
*hacky sack like foot game made from feathers and plastic
*badminton shuttle cocks made with real feathers
*children's books (we like the fairy tales in VNese)
*Vietnamese coloring books and school work books
*Vietnamese style Parcheesi type games
More Shopping in Ho Chi Minh City, Vietnam
*water puppets (real ones used in a show, not the ones made for decoration)
*silk lanterns
*rice baskets
*bread baskets
*rope hammocks
*pillow covers
*change purses
*straw basket purses/bags
*retro style bead screen (gaudy but fun!)
*"sword" carved from shell that looks like ivory
*hand carved from stone "chops" with each child's name and birth animal (eg.
year of the cat)
*brass "office stamp" personalized with each child's VN and American name
*rooster and hen made with real feathers
*melemac bowls and spoons with kid pictures
*ladles and other kitchen utensils made from coconut hulls
*painted fans
*stroller
*extra suitcases to bring all this stuff back home!

That's it! If you're a shopper, hope you got some good ideas for your own trip!