A Canadian Vietnam Adoption Story (Part 2)
By Karen Couture
SINGAPORE
We took a Vietnamese Airlines flight to Singapore with a very brief stop over in Ho Chi Minh City. When we landed in Singapore we were given 30 day visas for all three of us, although we had been told we would only get a 36-hour visa for Marc because he was Vietnamese. That was very fortunate in light of what happened subsequently. After Hanoi we experienced a bit of a culture shock, first with seeing a MacDonald's in the airport and then arriving at our hotel which was just like hotels in downtown Toronto. Our hotel was comfortable but too cold with no way to control the air conditioning and the staff were not very friendly or helpful. We missed the warm, friendly, helpful staff at our hotel in Hanoi.
Despite the problems we encountered in Singapore I must say that overall I was very glad we visited the city. Singapore is very modern and also very beautiful. There are high rise buildings and lush gardens. The people have retained historical parts of the city and take pride in their history and in their beautiful city. The streets are kept very clean (I saw a man cleaning the sidewalk outside a department store with what looked like a carpet shampooer) and there are shade trees everywhere, a welcome relief from the sun which is almost directly overhead as Singapore is very close to the equator. We took a bus tour of the city as part of our package stay in Singapore on the Saturday after we arrived as we could not do anything with the immigration process during the weekend. We got a good overview of various sections of the city and its history. We got a sense of Singaporeans as people who have a tolerance and respect for people of different faiths, cultures and religions. We visited the Raffles Hotel and I had a Singapore Sling at the Long Bar where Singapore Sling was created.
On Friday, June 26 we took a cab to the Canadian High Commission Immigration Unit to get the landing permit to allow us to bring Marc into Canada as a landed immigrant. We had a bit of a wait and then we told that there was no file for our child! They had a file for our first referred child, the little girl, but none for Marc. We had contacted them before we had left for Vietnam asking whether we needed to send them updated information regarding the child we were adopting but had received no reply (all communication had to be done by fax not phone). Now we found out that, yes, we did need to. We had a copy of the form required and could give it to them with the required changes. However, they said that the change had to be done back in Canada! They could do nothing until a file was faxed to them from Canada. After we left the Immigration Centre we had to wait until we could call back to Canada as it was the middle of the night there (12-hour difference). That evening we called Immigration inCanada and a friend who helped get things moving in Toronto.By Tuesday of the next week not much had happened.We decided to have Jean go back to Canada to expedite things there and I would stay in Singapore and return with Marc when the permit had been issued in Singapore. Also our other son, Rob, needed one of us back to look after him. Rob was really missing us by that time.
Jean flew back to Toronto on July 1. I was feeling very sad and lonely at being left by myself with a very young baby in a strange country. It really helped that Singapore is a lovely city and extremely safe. People there really value children and were very courteous and considerate wherever we went. They would hold doors open for us and give up their seats for us on the underground transit system.
On July 2 Jean got going on getting things moving with Immigration and a file was set up for Marc. On the morning of July 3 I talked to Jean on the phone. I said I had heard nothing from Immigration and I was crying. That is when he faxed the letter to Singapore saying the file had been set up and there should be a record of it in their system. Marc and I went to the Immigration Centre where a sympathetic person told me that they had no record of a file for Marc in their system but she would check. At this point I was close to tears again and just wanted to get home. They found Jean's faxed letter and then the file. Marc's permit was issued and I flew back to Toronto on July 4 with Marc. Marc was an excellent traveller at two months of age. He slept and ate through the entire flight home. We were greeted at Toronto International Airport by Jean, Rob and close friends who would be Marc's godparents at his baptism. What a feeling of elation and celebration! We were home at last!
For the information of other Canadian families adopting in Vietnam, the Immigration process has been greatly improved since we were there. There is a telephone contact in Singapore and everything can be done through the Canadian Embassy in Hanoi via courier. I have talked with other families who have adopted since and the immigration process took between one and two weeks on average to complete after the adoption paperwork in country and medical had been completed.
BACK HOME
It took over a week for Marc and I to recover from jetlag. I would be up at three o'clock in the morning sending e-mail and feeding Marc with no sense of where I was or what time it was. It was fortunate that Jean had pretty much recovered from the jetlag before we came home and was able to help out when I had to sleep.
I took a four-month leave of absence from my teaching job which turned out to be only one month off actual work due to a province-wide strike for one month of my leave. It was a time of adjustment for us with at least one night feed for Marc until about two weeks after I returned to work. After that Marc slept through until morning most of the time.
Marc was checked by a pediatrician the Monday after we returned and had a thorough checkup. He was found to be healthy with no problems except for the loose bowels which cleared up with time. We suspect that he may have picked up a "bug" in Hanoi. He was found to be extremely long for his age, even by North American standards, but of slightly below average weight. He still is very long and wiry for his age but healthy and growing well.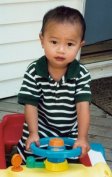 He is an extremely active child who sat up at 5 1/2 months, was crawling by 6 months and took his first steps at 10 1/2 months. At 15 months he understands much of what we say and is vocalizing a few words. He is an extremely curious and social boy who loves being with the other children at the daycare provider's home. He is a real joy to us, helping us see the world with new eyes and ears. Rob loves Marc and being an older brother, although he does not appreciate it when Marc gets into his "stuff".
Being a transracial family is interesting at times. I have been asked if I am his caregiver or his grandmother! We have a large Chinese population in our local community and many have told me what a beautiful child he is. Marc does not stand out as being Asian but we do as his parents. A Chinese women saw Marc in a store and looked around for his mother when I was standing near by. She was quite surprised when he came running over to me to be picked up. People generally have been very positive about our adoption and about Marc who is a very personable child. We are in contact with several other families in Ontario who have either adopted or are in the process of adopting from Vietnam, both by email and through visits. I also receive and respond to emails through the APV list and Canadian Adoption list and have communicated with people from all over Canada and the U.S. We have been able to provide invaluable support for one another through the international adoption process. I feel that the support of others who have been through international adoption has really helped us in our adoption journeys and will help us deal with adoption related issues as they emerge. Marc and his soon-to-be sibling will also be able to have contact with other adoptees from Vietnam, all of whom have unknown family histories but share common roots. This may well help them in facing their own issues and feelings that arise later on.
In the months after we returned we started talking about a second adoption as we felt that our family is still not complete. Both Rob and Marc would benefit from having another brother and we have the room in our home and our hearts for another child. I started making inquiries in Fall, 1998. In March, 1999, I contacted our social worker to do a homestudy update and contacted an agency, Access Adoption Services, here in Ontario which now works with IMH in Vietnam. When we adopted the first time there was no Ontario agency that worked in Vietnam.We decided to go with Access Adoption Services this time because they are more familiar with our paperwork and the immigration process and will be able to give us more assistance with immigration, especially as only one of us will be able to travel this time. Someone needs to stay home with Rob and Marc as taking them plus both us would be prohibitively expensive. I am now in the midst of completing the paperwork for this second adoption and look forward to having a new addition.