Vietnam Homeland Tour Diary
By Vikki Murray
An adoptive mother travels to Vietnam with her daughter on an adoptee Homeland Tour for adult Vietnamese adoptees.
My daughter, Lieu was born in Da Nang, Viet Nam in 1970 and came to me at one year of age in 1971, from Sacred Heart Orphanage in Da Nang, Viet Nam It was, of course, during the war and it was also prior to their being any agencies set up there for doing adoptions.. So it was rather bizarre and scary until, I finally held her in my arms. My thanks went to the Sisters at Sacred Heart Orphanage, and to an Australian woman working in Saigon, Rosemary Taylor, who handled the difficult paperwork and in-country adoption by proxy before she could exit that country. Many years have passed, Lieu has grown to be a remarkable woman.
As a single professional, active member of her church and living in a lovely apartment ... something whispered to her, "It's time to visit Viet Nam and see where you were born." Two years ago Lieu said to me.."Mom, I want to see Viet Nam, and I want us to do it together.. do you think you can save up enough money in two years?" and I said "I will". Lieu then said "I want to treat you to the transportation."
Two years passed quickly... Lieu kept reminding me to be saving... we did research to find the "right" tour and then my FCVN (Friends of Children of Viet Nam) friend, Bonnie Person sent me a sheet about a Viet Nam Revisited Homeland Tour that was specifically for grown Vietnamese adoptees. It is the 5th year they have done this. It is organized by two women who used to work in Rosemarie's critical care nurseries. We signed up immediately knowing this was the exact way for us to travel there. And it truly was the perfect group for us.

Prior to leaving, I put out a plea to my fellow dollmakers/designers who are members of Friends of Cloth Dolls. We are an online doll club we've belonged to for 6 years. My desire was to accumulate a hundred or more nice handmade small dolls to take and distribute to needy children and at orphanages during the trip. Well! As I departed the USA, I carried approx. 400 dolls.. and therefore very little clothes!
March 31 or April 1..
I really am not sure what date it is, no joke. I am on the plane on this LONG long flight and we have been up in the sky about 11 hours.
We are here! really here in Viet Nam, in Saigon. While on the bus ride of ½ hr. to our Saigon hotel, I immediately felt a strong comparison to Mexico - especially Zihuantanejo. Unruly traffic, some bright pastel color housing (upper-class), lots of street vendors, poverty everywhere, shacks.. and the most motorbikes I've ever seen anywhere. It made Americade look like child's play. The young teen girls here who pester us everywhere to buy packs of postcards are actually OK - and have senses of humor.
The heat is unbearable. I have had 2 showers in 4 hours in straight cold water. In our hotel room we have HBO in English.. I don't have it in NY!
It's "about" 10:00 PM - just returned from the restaurant. Excellent, abundant, interesting food. Again a long and leisurely meal.. but some were literally falling asleep this first night Prior to dinner we had gone to a rooftop bar for introductions of all of us and a beverage. A little girl street hawk/vendor offered to sell me her little brother for $3.00.
April 3 Tuesday
Today has been so unreal, ...I don't know where to begin. It's hard to process it all.. acutally, it is impossible.
The day started with a major breakfast buffet, bigger and more varied than any in the USA. The center of the table was a miniature rural Viet Nam village scene, with growing bean sprouts to simulate the greenery -very clever. All food thus far is abundant and presented very artistically.
Visiting the Viet Nam War museum was a "trip" emotionally- as we stood by a burned remaining piece of the airplane that crashed exactly 26 years ago... .and one of our our tourmates had survived the crash, 125 died. She was visibly shaken, and we all were in tears, hugging etc. The inside museum nauseated me. It was a pile of propaganda.
The other half of the day was AMAZING! We took the most interesting and pretty 2 hr. ride to the tunnels at Cu Chi. (Where the Vietnamese had miles and miles of hand dug tunnels underground, on 3 levels, with intricate ventilation system and innovative booby traps etc. during the war). It was a bit "touristy", but the film and the lecture were very educational.. Tasted fresh raw tapioca and jasmine tea there. I damn near died of the heat. At the daily 110 degrees, it is like the fires of hell- even in the shade. Nothing gives relief.
Both ways of the ride were wonderful. From the teeming life in the crowded city (Saigon) - eventually reaching the peaceful and VERY rural countryside with never-ending rice paddies of a brilliant assorted shades of green.. Dusty, red clay roads beside the acres of rice and water buffalo walking lazily here and there.
I've become the lady of Kodak moments and asked our driver to stop to photograph the people way out in the flooded fields, working 10 hours a day bent over in the equatorial sun. As our strange looking group of mainly white people got out of the bus ... it was evident the workers were as curious about us as were about them and made the long walk through the fields out to the road and greeted us with toothless grins. One 40-ish lady was pregnant. Meek and friendly, with leathered skin, they greeted us with smiles -- happily allowed us take photos and motioned for our adopted Vietnamese kids to enter into the photo group. They showed us their antiquated small cycles (rusted chipped and with repaired and broken handles). It was an amazing event. I must add they wore long sleeves up their arms, tattered gloves and headgear AND a bandanna across their faces like a bandit in the old American west... The women do not want to get a sun tan. Pale skin is considered beautiful by them.
A Black/Vietnamese tourmember who is a now a law student went to visit his orphanage. I gave him a big sack of cloth dolls and teddy bears to distribute there. He said the kids went bonkers when he started to give some to handicapped kids in cribs and then he was totally surrounded by giggly, wiggly children. He was visibly changed when he came back to the group and totally quite for hours. Later that day, he did say the director said "I know that boy." (28 year had passed.) He was also told he was the first and only child that ever returned. He said it was NOT clean, and Sr. Susan remarked "not a speck of upkeep has taken place in 28 years."
The rest of the ride was SO exciting and informative - the never ending tiny shack-like stall shops, most having no electric or sign, sold everything imaginable. I saw huge coffins made of ceramic tiles (like we use in our bathrooms), live animals of all types, fresh fruit and veggies so bright and beautiful, furniture, pipe, plasticware, hats.... Lots of stagnant greenish puddles everywhere. Returning from the tunnels on a dusty road with water canals and rice paddies on both sides, there were skinny low boats on both sides and several makeshift stands selling pineapples and lukewarm sodas. These people who lived on these small boats were simple, friendly folk. They were migrant workers... in that area because it is pineapple season. The crowded dingy boats had wonderful thatched roofs, and each had a very tiny TV that they powered by a car battery! Vietnamese people are very innovative... And everyone has a TV. Another observation.. Everyone loves to grow potted plants in great quantity, even at shack houses without any furniture.. They get joy from their plants.
April 4th - the 26th anniversary of the tragic Babylift plane crash
The group (including former childcare workers from Rosemarie's nurseries) participated in a Memorial service for the deceased babies and valued staff that died in that crash during the final falling days of Viet Nam. Over 100 perished. We drove forever to a remote rural area with skinny dirt roads that could barely accommodate a bus.. Ahead of us was the Saigon River and wet rice paddies. Everyone walked about ½ mi. into the rice paddy to the exact spot of the crash and held a Christian service and a Buddhist service. I learned that the Buddhist people believe in an after life and leave things for children including cookies and candies and small clothes and much burning incense. In the god-awful heat it was a torture and especially hard on an adoptee who survived that crash.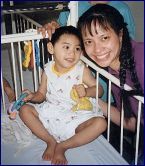 We visited Phu Mai orphanage that afternoon... seeing all those children was amazing and sad ... We saw handicapped children who were silent and unresponsive, getting clean custodial care.. Also saw some sad classrooms. We all enjoyed giving away dolls to the children and playing with some. We also visited by bus, all of the nurseries that Rosemarie Taylor had operated at one time or another. Most are now private homes and we could not go in. The one Lieu had been in for 2 months preparing for her departure was now a private home, but the man living there invited her in when Xe explained why we were gawking at the building.
The all night market was totally amazing. It reminded of the NYC all night fish market or meat market - it was the same atmosphere. There were foul smells, weird sights, little dirty children playing in the dark streets at 11:00 at night, old people sleeping on army cots or grass mats on a wooden wagon, people pushing by hand, huge heavily laden wagons of fresh fish over uneven cobble stones, and moving colorful fresh fruit in enormous handmade baskets. Again and again, I have to say the Vietnamese people are the hardest working that you can imagine.
When we stopped for a lukewarm drink, and to let the cyclo drivers rest a moment.. All these scruffy friendly children came out of the woodwork! They were greatly amused by this old white woman who was so large! They squealed with delighted giggles as they gently pinched my fat arms! An "older" girl of about 8 stepped forward from the group and spoke a few sentences to us in English. She was extremely proud of herself and we could tell she enjoyed practicing on us. We praised her generously. We also gave some soft toys to the little ones. Our greatest joy in doll distributing has been to children on the streets.
Sometimes at night Lieu falls silently into bed ... sometimes we talk about our feelings of that day. This evening, both of us a little teary, expressed some deep feelings and Lieu told that she DID feel a definite connection to this beautiful country.. and that the words at the service "You are the sons and daughters of Viet Nam" had brought tears to her eyes. I am so happy for Lieu and ALL the adoptees.. because each one is starting to REALLY understand what being Vietnamese is.. and at last they can be truly proud to Vietnamese. Both Lieu and I are so glad we are here.
April 4, Wednesday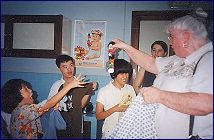 Can Tho was our final destination today.. And despite a 2 hour bus ride both ways in this brutal heat it was a good day. We were able to distribute many dolls and take photos to show the dollmakers who donated them. It was sheer joy giving them out.... As we know, children are the same the world over.... a tickle, a smile, a hug, a gift, speak volumes. Providence Orphanage at Can Tho has many children but not available for adoption. There are the handicapped. .. and there are many who are from destitute families and they live there and go to school there. (They see their parents 1 time a year.) The sister explained it is her hope that these children can break the cycle of poverty and no education in their families and will be able to make their way in the world.
The children were ages 4-12. They are all a little skinny, have poor teeth, and tattered clothes (yet laundered). Each wore a smile as they lined up in rows of a dingy dark depressing classroom and sang for us. They sang in English! It was evident they had no idea what the words meant, but the Sister was so proud of her teaching them. When passing out the dolls I "hammed it up" as I slowly went to each one.. Having the teddy bears tickle their necks, and the dolls kiss them , I encouraged them to say "thank you" in English and each did so with such a proud grin.
Yesterday, we were headed for our night in the jungle, proceeding in 4 open boats across a big wide brown dirty watered river, over to a large island. Once there we proceeded at a lazy pace for a few hours through remote twisting and turning canals. Jungle fauna on each sides so close you could touch it. I felt like I was in a Tarzan movie! Once in a while there was a thatched hut, but it was largely uninhabited. Our destination was a very old (once abandoned and still worn down) French rubber plantation villa/house. Some local entrepreneurs, have a done an innovative thing making it available as a "guest house" for us brave tourists!! In its hey day, it had to have been a gorgeous extravagant home. Our one nights stay was unique! All 30 of us slept in the same room on army cots so close you could easily tickle the person next to you. Xe slept next to me and her cell phone was ringing many times which seemed hilarious in that setting. When we bedded down. Each persons cot was covered with bug nets that hung from above. Meals were served outside on child type plastic furniture. But food was good. Plumbing primitive, but the toilet flushed! I would not have missed that experience for the world... the jungle birds making noisy calls during the night, dogs barking in the far distance ALL night and an extremely enthusiastic, and loud rooster who called nonstop from 4:30 am till we left!
We drive back into Hoi An town for lunch and for the afternoon we have a choice of lounging around the
pool and ocean or getting on the hot bus and driving even deeper south into the lush Mekong Delta to another orphanage. We chose the orphanage, and were glad we did.. The children were wonderful and enjoyed their gifts and the ride, as always, it was so interesting..... Throughout the trip, our guides spoke to us for hours about what we saw out the windows, the country's history and would answer all questions asked of them.
Got up 5:00 am, had the usual wonderful big buffet breakfast, then we departed to take several river boats to the floating market, which was SO WILD. Maybe 200 boats all selling their wares, which are mostly produce, some meat... They put up a tall bamboo pole with, for instance, an onion tied on top to show what they sell (no need for signs). SO crowded, boats touching each other at all times, whole families squished into their boats, both selling their stuff and living from the boat, young mothers nursing their babies on the hull, old men sleeping in hammocks slung gingerly on deck... and often small children just sitting with nothing to do while business was going on. We were so close to these boats that I could reach across and give away some dolls to tiny children in the next boat. You should have seen their amazed faces!
I chatted with our river boat driver and he told me he was #10 child in his family. His older brother and his sister were also river boat drivers. He really enjoyed practicing his English and told me "If you want to make better money in my country, you better learn English." (I heard this statement again and again during our journey).
Sunday April 8th
Our group (minus a few, including myself) are climbing Marble Mountain in Da Nang We have also seen and stepped onto beautiful China Beach.. At this time all of the adoptees except Lieu have visited their orphanages. Lieu is next and last.
This morning we got up at 4:00 am to go to the airport and fly north to Da Nang where Lieu was born. After all the lengthy airport nonsense, we drove to the convent where nuns associated with Scared Heart Orphanage live and do business.... all are quite old. The place is beautiful and in beautiful repair and all Sisters wear habits complete with head gear, neat and clean and starched.
The emotional moment came when Lieu was allowed to look through a 30 yr. old ledger book with its tattered corners... listing all babies who came through there, and suddenly, there it was LE THI THUY PHUONG, my Lieu's original name. Tears were rolling down my face mixing with the salty sweat. Lieu shed tears, and we all hugged. We gave the sisters a money donation and Lieu showed them photos of her thirty years ago at the orphanage (a few blocks away)... One nun there felt she recognized her.. More hugs. There are NO words that explain these moments. I don't think I will EVER be able to explain seeing my child's name in a book thousands of miles away and also getting to hug ladies that held her before I did. Watching Lieu fill with emotion was very moving.
After visiting the convent, we went to the former Sacred Heart Orphanage nearby, by bus. The buildings are the same, but it is not for children anymore - it is an old-age home for nuns. The convent ladies told us there were many women over there that cared for babies when Lieu was here. We were greeted warmly, in English (isn't it amazing that they remember?), and Vietnamese. Two older nuns recognized the photos Lieu carried with her as an infant and all were joyous. We took pictures, we cried (at least I did). Then our group was being led upstairs to visit the very elderly nuns who were residents in the home, and who were childcare workers in 1970.
As the entire group proceeded up the stairs, I was last in line. Before stepping up, I felt a small hand on my arm and a Sister (about 75-80 years old) who I didn't even realize was there, motioned to me and spoke, "come sit, we talk". The several minutes I remained there - just the two of us - woman to woman , will remain clear in my memory for all time. She remembered 1970, the GI's, so many babies left there. Her voice was soft spoken, she spoke slowly recalling her English words. (She knew I was Lieu's Mother). She told me again and again "thank-you".. And asked several times "You feel lucky?", "You feel proud?" I would tell her Lieu is a wonderful daughter, Lieu has been a wonderful daughter and sister, she works very hard and makes a lot of money... After each sentence she would "beam" with her smile and say "that good".
I dragged my self up the cement outdoor staircase to find my group surrounding the oldest looking Nun I have ever seen (she said she was 95), and she was in a wheel chair, squinting her ancient eyes and Lieu was at her side. This lady had taken care of the babies in 1970 and was now deaf and felt she knew Lieu. She asked Lieu in English to write what she had to say, and Lieu write several lines in large block letters telling her the story of her beginning at Sacred Heart. All of us fell in love with this frail lady with plenty of personality... and I would venture a guess that her picture was taken at least 30 times. She wanted one of the stuffed animals and was thrilled when we gave her one.
As I lastly rounded a corner catching up with the group in an outer courtyard, this is what I saw: Lieu was engaged in a lively big smiled conversation with a younger nun (probably 40's) who had evidently just drove in on a motorbike (evidently summoned by someone). I learned that when she pulled in and saw Lieu.. She kept saying again and again "I know you... I took care of you!" She was very joyous. Under her arm she had a worn small photo album with not too many photos in it. She took from it, 2 photos of Lieu at about 18 mos. that were taken in the USA, that I had mailed over to Sr. Angela who was the director at that time. One of her alone, and one with her brothers and an Aunt. It took all my breath away. It was REAL... this lady had really helped care for my daughter when she herself was just a young girl living at the orphanage. She cared for Lieu and she loved Lieu.
I want to explain part of the emotional revelations here. We were often led to believe that these children in the orphanages were almost anonymous little humans, not seen as individuals and not worried about with the depth of emotion that we felt today. Lieu and I now KNOW, those women cared A Lot.. And we saw how much it meant to them for her to come back and say thank-you. This has made the whole trip worthwhile for me.
One of these afternoon we drove over Hai Van pass, enjoying spectacular views of Trong Son Mt. and South China Sea. The pass is three very pointy, very tall peaks with the scariest road I have ever been on. Also breathtaking views.. We saw a large leper colony from the bus. It still exists.
One evening we went for a Royal Dinner at a fancy old house somewhere (Emperor Bao Dais place)... and the people there put everyone into oriental robes of brilliant Asian colors seen in satins, complete with headgear and one couple were dressed as King and Queen and all ceremoniously marched into dinner with live Vietnamese music. It was hilarious and there was an 11 course dinner... each one presented beautifully Vegetables carved and then constructed into a 3-d bird, and swirly little cakes and meats decorated and arranged flat on a big plate to make a peacock with feathers and so forth. One day we visited a government run artisans hostel where deaf young adults live as a community and have been taught the trade of sewing - both by hand and machine - many were creating gorgeous hand embroidered scenes. I bought some. As we were ready to leave, the workers in residence were outside for a lunch break. Several people in our group can speak "sign"... And got into a lively conversation with these guys. A good time was had by all. We had the joy of a lengthy boat ride on Halong Bay with its many craggy islets throughout (a photographers dream).
April 11
This stinks.. We are stuck in the Hue airport. We were to fly to Hanoi this morning, but it's been pouring and they say we can not fly if rain does not stop. Hue was no big deal. We viewed 3 huge mausoleums which were amazingly ornate, but boring after the first one. The drive through the mountain pass was SO amazing and wild.. A terrible road, hanging off the side of the cliff with numerous hairpin turns, big trucks and small motorcycles passing us even on dangerous turns. We were about to sing "Nearer My God To Thee". It was over 100 degrees in the bus. We passed local broken buses with chickens on top, people inside crammed like sardines, passengers relieving themselves on the side of the road - awful- 'saw one accident where a full bus "fell over" into a ditch and a small car. The drives through the countryside are wonderful, these innovative people work like slaves often rebuilding every year as the floods destroy everything.
April 12
On last nights flight, I got to fly 1st class ! That was a nice bonus. We went to a local restaurant (LATE after our arrival). Many chose to not go after the harrowing, exhausting day, but I went. The food had some different flavors that all of us enjoyed. There were curry dishes and peanut sauces on chicken that were delightful. The hotel is old , large and clean... but the people here are not as genuinely friendly as they are in the south. There are many large old French buildings that were once beautiful, a few still are.
April 13th
The group are beginning to tire of some things.... like mausoleums. We all want to shop at this point as we held off doing so in Saigon because there was a weight restriction on in-country flights..
Lieu has said she is more or less satiated and has been totally satisfied with the trip. I feel the same.