She Shimmered in Time - Vietnam Babylift
By Charlene Edwards; Excerpted from Voices from Vietnam
The last baby out of Vietnam during Operation Babylift 1977.
"She shimmered in time." Lana's poetic words describe her adopted Vietnamese daughter, Heather, whose short life ended 24 years ago. "I'm sorry we couldn't save her, but I'm so very glad we had the opportunity to love her."
In 1973, after five years of marriage, Lana and Byron faced up to the realization that they had little hope of having children of their own. So they chose adoption. "We soon found out how futile an American adoption would be and instead we decided to look outside this country." They got in touch with Friends of Children of Vietnam and began a long, tedious adoption process. "Page after page after page of application papers, hours of home study and interminable interviews—we thought it would never end. We were even fingerprinted. Almost an entire year after we began the process, we finally received our approval. Then we had to wait. Wait for our baby."
It was early 1975 and the tension in Saigon was rising. The Viet Cong were closing in on the city. President Ford announced that Operation Babylift would be set in motion using American military transport aircraft. Other countries around the world joined in the effort, and on April 3, 1975, the evacuation of Vietnamese and Amerasian orphans began. On the second day of the airlift, a C5-A cargo jet carrying 228 orphans crashed into a rice paddy 20 minutes into its flight from Tan Son Nhut Air Base. Forty-nine adults and 78 orphans died.
Lana, Byron and an entire community of potential adoptee parents on Long Island were devastated. No one knew whose children were on the plane, and fear showed on their weary faces as they waited to hear the names of those who perished. "Without question, it was one of the worst days of my life."
Lana, still visibly upset, tells the story of that day as she strokes Heather's face in one of the few photographs she has of her child. "Thank God, Heather wasn't on that downed plane."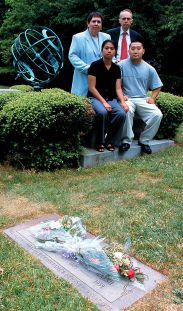 From April 3 to April 19, 1975, Operation Babylift flew more than 3,000 children to new homes in America, Europe, Canada and Australia. Heather was one of these children. She left Vietnam on April 11 and was twice hospitalized—for pneumonia, malnutrition, anemia, scabies, salmonella and a cough—before reaching New York on April 23. "Heather only stayed home with us until April 29, when we had no choice but to take her to the hospital. We stayed there with her day and night. I remember sitting at her bedside watching the television report that the North Vietnamese were taking over Saigon." As the South lost ground, so too did Heather. "I remember thinking, God didn't bring her all this way here, so many thousands of miles, to have her die on us. But she did." Heather struggled to hold on, but she was too ill. "Our tiny miracle baby, Heather Constance, smiled at us twice before she died on May 17."
"The trauma of her death was such a shock that it followed us forever. We were never the same again." Heather's funeral was on May 20. "That night, in one of the darkest moments of our lives, the phone rang. It was Friends of Children of Vietnam. They had three more babies to place. They wanted us to take one. Our minds raced. We had just buried our daughter—we couldn't go through it again. We needed time for silence and tears. I said I'd call them back the next day." Without barely a pause to grieve, Lana called the next day and opened her heart to yet another life.
Evacuated when she was three months old, Jennifer was the very last baby placed from Operation Baby lift. "She came home on June 5, 1975, and was ours the minute we saw her, shaved head and all. There was no sleeping her first nights home. We hovered over her day and night, constantly checking to make sure she was alive." Jennifer flourished and grew bright and confident. Piano, flute, soccer, gymnastics and dance lessons filled her childhood. "Jenny is so gifted and talented. And very much her own person. Her first sentence was, 'I do it!'"
Jennifer earned many achievements. She won a good citizenship award, was named sportswoman of the year, and graduated an honor student from high school. She graduated from Drew University cum laude with a bachelor's in psychology and from Columbia University with a master's in social work. She now works as a social worker with underprivileged, low-income families. Jennifer's interest in her heritage has grown stronger as she matured. She would like to visit Vietnam someday soon.
Lana and Byron did not want Jennifer to grow up as an only child, so on December 11, 1979, Jason, an abandoned child from an orphanage in Seoul, South Korea, became her new brother. He graduated from Hofstra University and is presently working as a social studies teacher. "We are so proud of both our children. Our lives have been transformed by them. We are truly blessed."
Even so, each and every spring, when the earth stirs, Lana remembers her lost child. "I loved her so much—she was my baby. She was a gift to us all. Not a day goes by that I don't think of her and talk to her. I am so thankful that she died being loved. I wake early every morning from April 23 to May 17 and ponder what I will do in Heather's memory. It's as if I'm on a mission, and for those 25 days that mark the anniversary of Heather's life with us, I donate money and try to help increase awareness of the tragedy of her death."
Heather is buried far from Vietnam, near a bench, a lovely dogwood tree and a globe of the world. Lying in the earth next to her is a young corporal. She died in his country. He died in hers.