Going Back to Vietnam
By Karen Herzog
An adoptee from the 1997 Babylift revists Vietnam.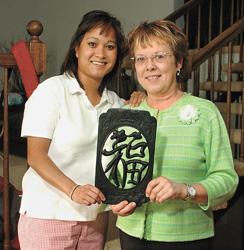 The three travelers made an odd trio, Sandy Enget said.
Enget, of Bismarck, is a trim strawberry blonde. Her brother, Dave Halvorson, a happy-go-lucky Texan from Houston. Nicole Fried, 31, of Bismarck, is Enget's daughter.
You might think it would be Enget and Halvorson who stood out among the millions in Ho Chi Minh City, or at Da Nang, or other places the three went during their 10-day trip to Vietnam this spring.
But it was Fried who was the belle of the ball, Enget said. "She was the focus."
The tiny, dark-eyed woman was greeted everywhere by big smiles and a kind of familial recognition: "You're Vietnamese," people would say.
Named Moonflower
Whatever name her biological parents may have given Fried is unknown, as is her precise birth day. At the orphanage, she was Moonflower. The birthday chosen for her was June 9.
Enget's best guess is that Fried is not the child of an American soldier; her immediate recognition by Vietnamese as one of them tells her mother that Fried is likely full Vietnamese.
After Enget and her former husband adopted their son, Jared, who is Ojibwa, in 1970, they wanted to adopt a second child. At 10 months old, Fried was adopted from an orphanage in Da Nang through Friends for All Children; at the time, she weighed 91/2 pounds.
Now the mother of two sons, David William Barth, 8, and Nick Barth, 12, Fried returned to Vietnam in April for the first time since her infancy. Her uncle, Halvorson, had told her since she was a child that whenever she wanted to return to see her birthplace, he would take her and her mother.
For Enget, it was her first visit. But for Halvorson, like Fried, it was a return. He had served in the military in Vietnam for 10 months at age 21, back in 1969-70.
Not in the minority
In Vietnam, what most struck Fried was that, everywhere she looked, for the first time, everyone looked like her. There, she was no minority.
Halvorson said he never realized until Fried told him on the trip was that, growing up Asian in North Dakota, she had heard name-calling directed at her.
What Fried had never heard until this trip was her Uncle Dave's war stories, his memories of Vietnam.
The war, which in Vietnam is called "The American War," or "the occupation," Halvorson said, was on display when the three visited the War Museum in Ho Chi Minh City, formerly Saigon.
Pictures of deformities attributed to the herbicide Agent Orange, used to deforest the jungle during the war, made the hair on the back of her neck stand up, Fried said: "You could feel death."
The trio, like other American tourists, went down into the Cu Chi tunnels, which were used by the Vietnamese people and guerrillas during wartime.
"People couldn't live on the surface," Halvorson said of those war years."There were 6,000 people who lived underground because of constant air strikes,"he said.
The tunnels, which had taken more than 20 years to build, chiseled by hand with dirt carried out in baskets, fit Fried's small frame neatly. She scarcely had to bend her head to walk in them, Enget said. But American-sized Halvorson was reduced to a crawl.
Her brother was uncharacteristically subdued in the museum, but mostly, the trio were happy tourists, Enget said. They dubbed each other with nicknames. Because of all the attention she got from local people, Fried became 'Miss Vietnam', Enget said with a laugh.
Though the people had trouble grasping the concept of "adoption," when they understood the relationship, they would point to Enget and tell Fried "you're very lucky."
"I'm the lucky one,"Enget would respond. "She's my daughter."
'Moving jigsaw puzzle'
Each responded to something different during their visit to Vietnam.
Her brother loved the bustle of Ho Chi Minh City, Enget said. With its 8 million people all moving together in a pattern that he called a "moving jigsaw puzzle," the place just hummed, she said.
For Enget, who hadn't had much experience with Buddhism, their guide's serenity, the way he exuded kindness, was remarkable, she said.
The people's courtesy and respectfulness and being invited to their guide's family's home for dinner, to be told she was family, "a sister," was very moving to Fried.
Just being in that country, "it was comforting to me," she said. "I felt like Ibelonged somewhere."
Even before she set foot there, she said, "I cried. As the plane was coming down, I cried.
I'm here."
Walking the beaches
Though Halvorson had liked the people and the country during his tour of duty in Vietnam, he wanted to provide this trip mainly for Fried.
"I enjoyed the country when I was there. It was not a bad experience. But I was more interested in Nicole getting back to her roots.
"Coming from North Dakota, you could put all the Asians in North Dakota in a big Greyhound bus. On the plane trip to Vietnam, she told me people used to call her 'chink' and all kinds of things."
He knew, "when she gets to Vietnam, she will be amazed she's not the only one. There's a sea of Asians. For once, she wasn't in the minority."
Halvorson said he loved watching Fried walking the beaches of her native country; sometimes getting up at 5:30 a.m. to do so.
He figured she had collected a couple of bottles of beach sand to bring back. But on the flight back to Ho Chi Minh City from Da Nang, the government-controlled airline personnel said that Fried's luggage was overweight.
She was bringing back eight bottles of sand in her baggage.
Another trip planned
The deep connection to a country and a people surpasses easy understanding.
Fried said she still wakes with an eerie feeling since she has returned. Though her dreams aren't entirely clear, she can feel Vietnam in them. Whether than will continue or fade, she doesn't know.
But her Uncle Dave wants to give her one more trip to her birthplace.
"I want to take her and her boys over when they're older,"he said.
"This time she went over as the child.
When she goes over as a mother, it will be a totally different experience."